SELECT WORKS

For the Women Girt with the Sword


Sound Art Installation
A/V Performance
Ritual Art


For the Women Girt with the Sword, 2021
Cassette tape sound art installation, Multimedia A/V performance
Presented at the Coaxial Media Arts Festival, March 2021
Total length 05 mins, 59 sec
Installation featured cassette tape ritual offerings of composed tape music and multimedia video art set to the narration of an excerpt of the essay "Freedom is a Two Edged Sword" by Jack Parsons (1914-1952).

A multimedia ritual offering A/V installation (5 min, 59 sec) presented as part of the Coaxial Media Arts Festival, curated by FemSynthLab. This installation is a product of recent experimentations with tape music, fascinated by the electro-magnetic properties – especially as it relates to the planetary energies of Mars – and its interactions with other metals.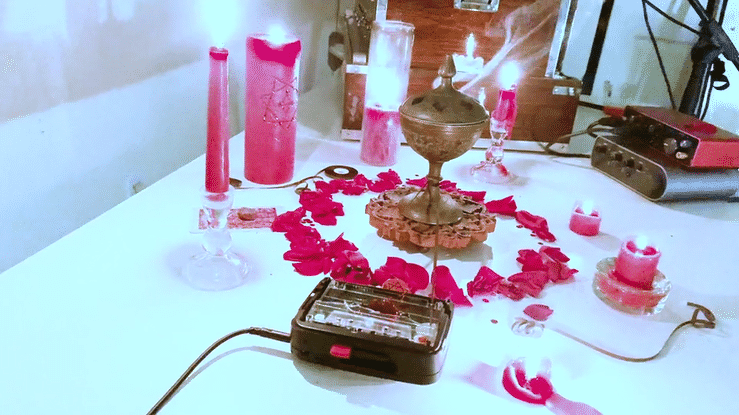 I like the idea of the invocations being transmitted from electromagnetic tape to the hot metal of the incense burner, which after a number of revolutions eventually starts disintegrating the physical sound, as the earthbound magnetic prayers are carried to the heavens.


The ritual offerings are invoking and in dedication to the goddess Babalon, who is a form of the goddess Inanna/Ishtar, particularly appearing in the book of Revelations 17 branded by the Christian church via John of Patmos as the "Mother of Harlots" and "Mother of Abominations and All the Filth and Fornications of the World".
An excerpt from the live video art featuring handwritten Arabic calligraphy of text from an Arabic Coptic copy of the book of Revelations 17:5 رؤيا ١٧:٥ describing the Apocalyptic vision of the Scarlet Woman. Narrating from Chapter IV: "Freedom is a Two Edged Sword" by Jack Parsons.
Next ︎